DIY Easter Tree and Decorations
/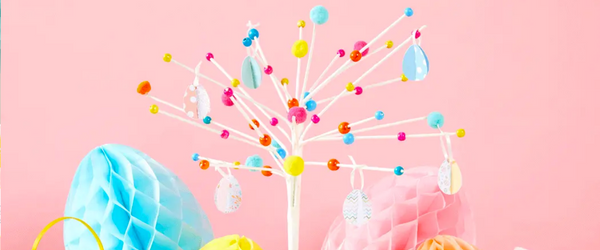 As Easter approaches, we're thinking about how to best decorate our houses with a little spring cheer. We couldn't think of anything more glorious than the traditional Easter tree!
Although not a common decoration in the UK, many countries including Germany, Sweden and Ukraine celebrate the Easter season with these beautiful folk art trees and handmade ornaments.
What is an Easter tree?
Over in Sweden, Påskris are usually twigs and sticks decorated in a vase with colourful feathers attached to the ends. They might also have egg decorations or birds.
It's thought that the twigs and feathers symbolise a kind of broom, sweeping away the winter. In older times, people would beat each other with sticks to remember Jesus' suffering – thankfully, this particular tradition is long gone!
Over in Germany they have Ostereierbaum, meaning Easter egg tree. No one's quite sure how the tradition started, but for two weeks from Good Friday, trees and bushes are decorated with Easter eggs.
How we made our Easter trees
We went with two different styles for our Easter trees, both of which are super simple!
For our first tree we went traditional and went out to pick some twigs from the park to make the beautiful display. We transformed the twigs into minimalist flowers by gluing our fabric daisy heads on, then displaying them like a bouquet in a clear glass jar.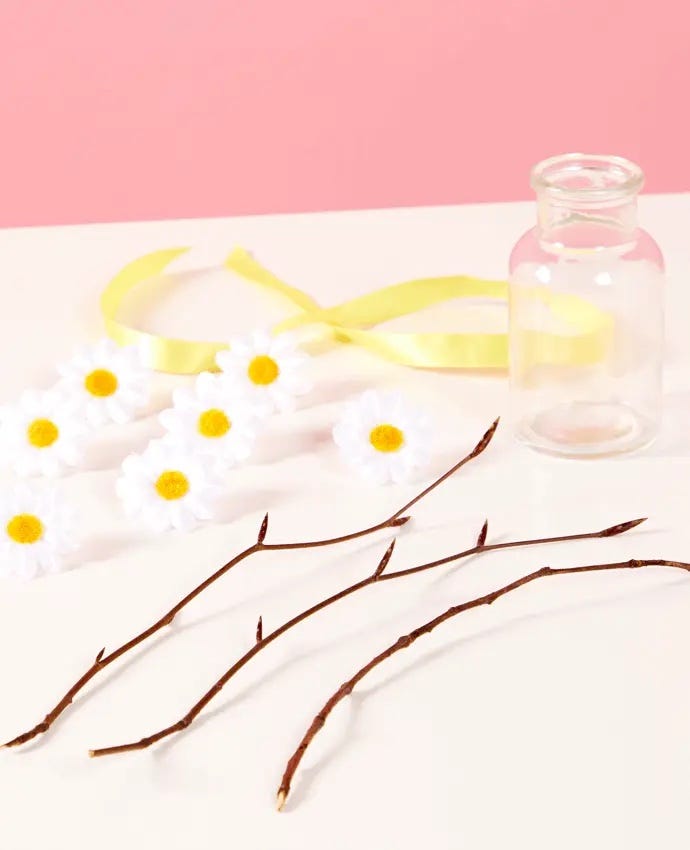 The finishing touch was this lovely pale yellow ribbon that wrapped around the jar. Simple, yet effective!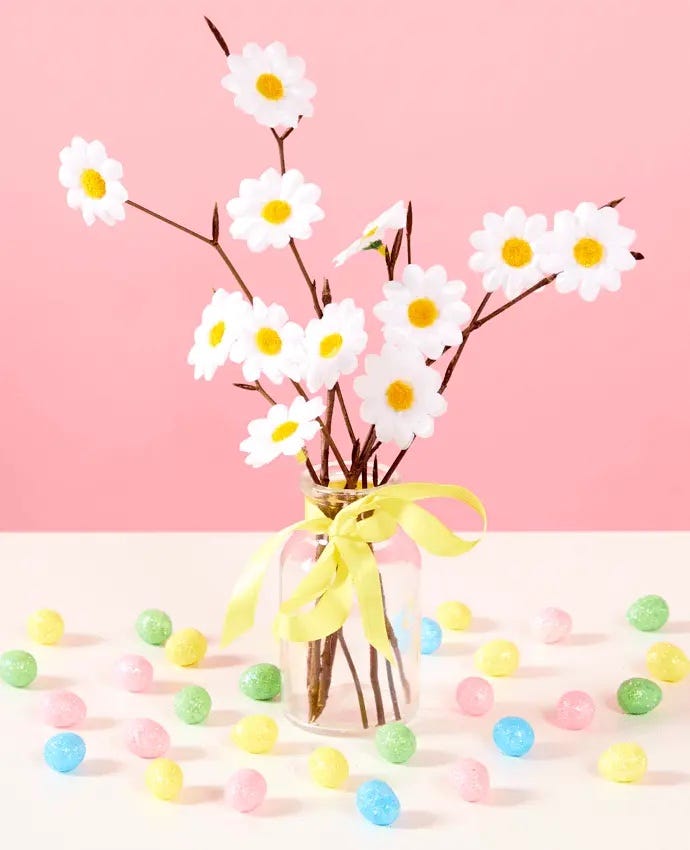 For the second tree we used one of our own Easter trees – these are perfect little white stands with faux branches that are great for any time of the year. We wanted to make it super bright and colourful, so we took this pom pom garland and used the beads and pom poms to brighten up the branches.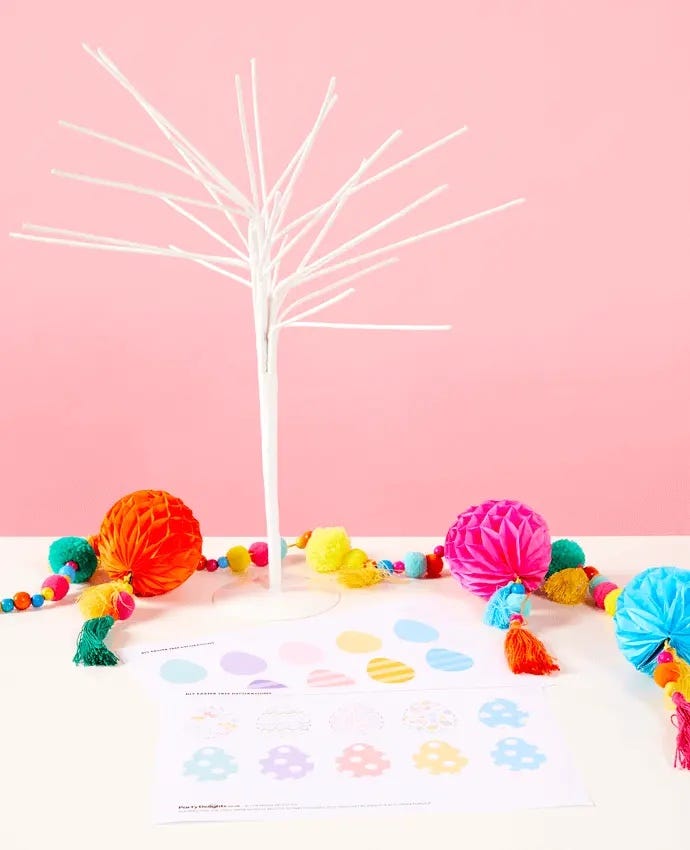 Download the free printables to make your own – it's so easy, and you can choose from patterns and polka dots or pastel and striped eggs! Simply choose from patterned, polka dot, pastel or striped designs and print out the sheet.
Cut out the eggs and pick pairs to go together – we thought it looked cute to have one solid colour and one patterned piece.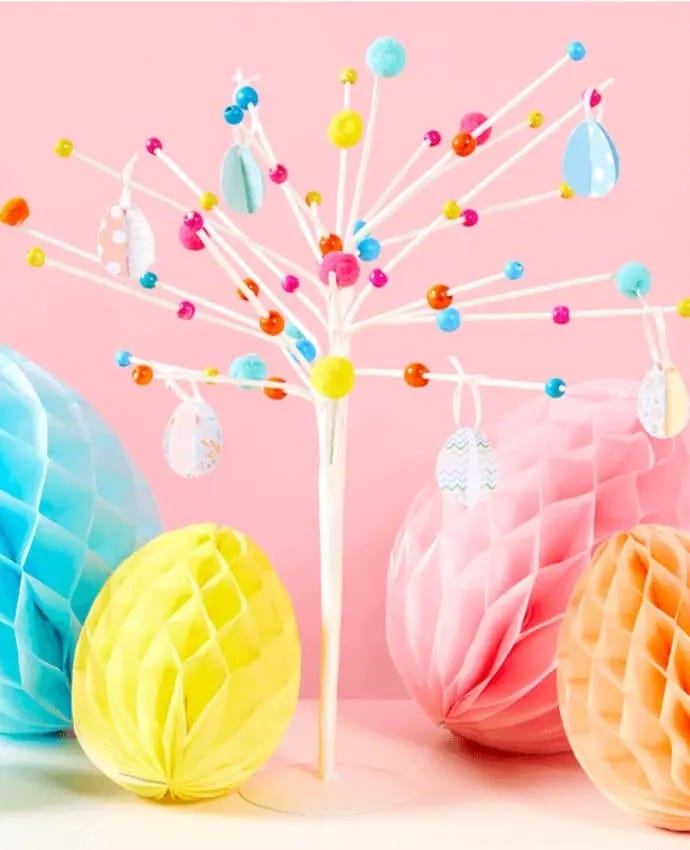 Make a cut in the bottom of one egg piece going up to about half way. Then make a cut in the top of the other egg, again going down to about half way. You can then slot the two egg shapes together to get a sweet, simple 3D egg decoration.
And that's it! Bet you didn't think Easter trees were a thing, let alone an easy and simple way to bring a little spring into the house after the gloom of winter! Well now you do.
We'd love to see your own version of Easter trees, tag us in your pictures with @partydelightsuk